Holiday Gifts For All Car Lovers!
Holiday Gifts for Car Lovers from Exotic Carbon Fiber are the perfect combination of luxury and style. We offer a wide variety of high end, domestic and exotic brands. Every item is manufactured to the highest standards in 100% genuine carbon fiber. Our proprietary process seals the image in resin, meaning it won't fade or crack. 
Whether it's a Carbon Fiber and Genuine Leather Key Fob or stylish Carbon Fiber License Frame, these gifts are sure to impress.
LAST CHANCE HOLIDAY SALE!
Browse our selection of unique gifts in our main shop at
Exotic Carbon Fiber
and save 10% on all items (up to $1000. cart total).
 Use coupon code LASTCHANCE10 at checkout to get great savings on your entire order. 
Coupon valid until Wednesday, December 15th to help insure your gift will arrive in time.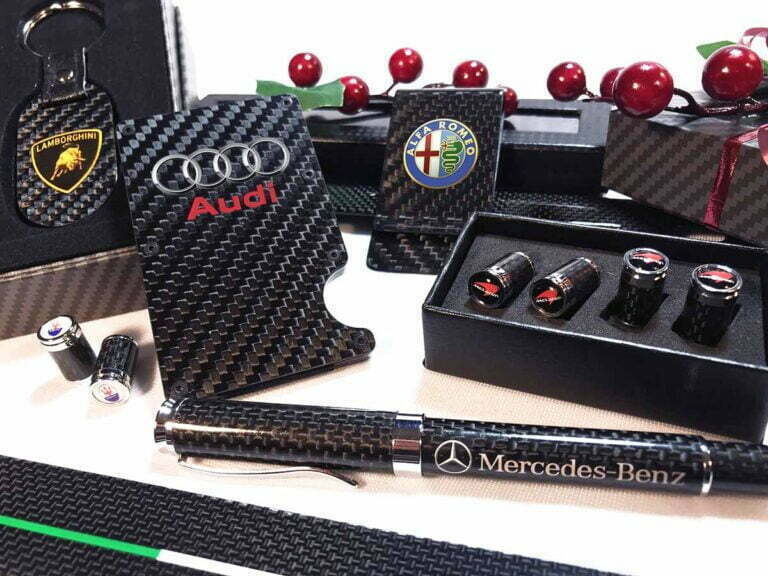 Shop by Brand
Not sure what to get the car lover in your life? All of our genuine carbon fiber accessories make an affordable luxury gift at under $60. Shop by brand to find the perfect gift (or combine a few to make the ultimate statement present!) 
Find brands like Mercedes Benz, Ferrari, Lamborghini, McLaren, Alfa Romeo and many more…
Use the coupon code LASTCHANCE10 at checkout to save 10% on every item in your cart.
Want to go bigger? Take a look at our selection of Carbon Fiber Parts at deep holiday discounts. Please contact us for deals on selected body and interior parts over $1000.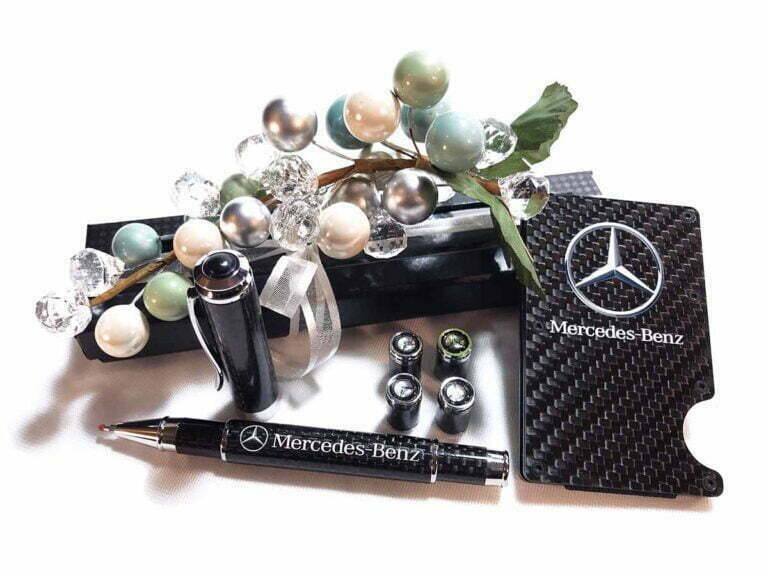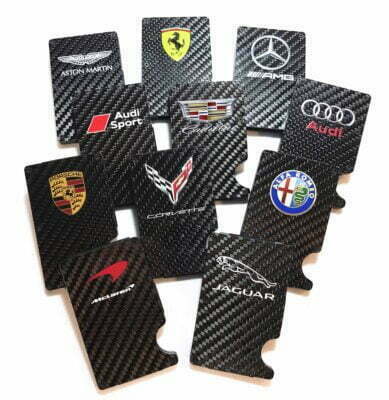 New for 2021!
Carbon Fiber Credit Card Money Clips
We're excited to add this new product to our already great lineup. Our Credit Card Money Clips can hold up to 30 standard bills and 15 credit cards simultaneously.
Our full carbon money clips are produced by hand to ensure the highest quality and encased in resin for superior shine and durability.
As an added bonus, these clips block RIFD scanners for an extra layer of personal security.
Want something in a more classic style? We also offer a selection of Slim Carbon Fiber Money Clips in a wide range of imported and domestic brands.
We can't think of a more perfect stocking stuffer! These are the ultimate holiday gifts for car lovers.
Our 2021 Pick:
One of our favorite gifts is the Carbon Fiber Car Logo Pen. As always, it crafted from 100% Genuine Carbon Fiber and finished by hand to bring out the beauty of the material.
Each pen is operated with a smooth twist mechanism on top and features a replaceable standard ink cartridge with black ink. 
Best of all, these pens come packaged in a carbon fiber-styled gift box for stunning presentation.  The perfect personal accessory for the devoted car enthusiast.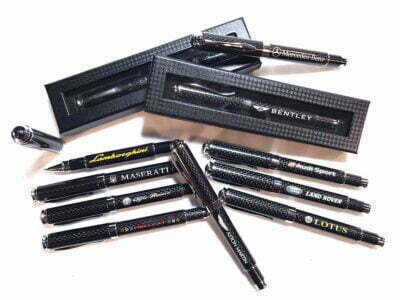 Happy Holidays from Exotic Carbon Fiber!
We hope you'll find the perfect gift for someone special (or maybe a treat for yourself- you deserve it after this year!) and are pleased to offer 10% off your entire order to help your holiday budget go further. Take advantage of our Last Chance Carbon Fiber Sale from Monday, December 6th to Wednesday, December 15th, 2021.
Just use the coupon code LASTCHANCE10 at checkout to apply your discount.
If you have any questions feel free to contact us and we'll get back to you ASAP. Customer satisfaction is our #1 priority.
Want to rev up your holidays a little more? Check out Nouvalari USA for exhausts that will blow you away!