What Are The Perks Of Using License Plate Frames?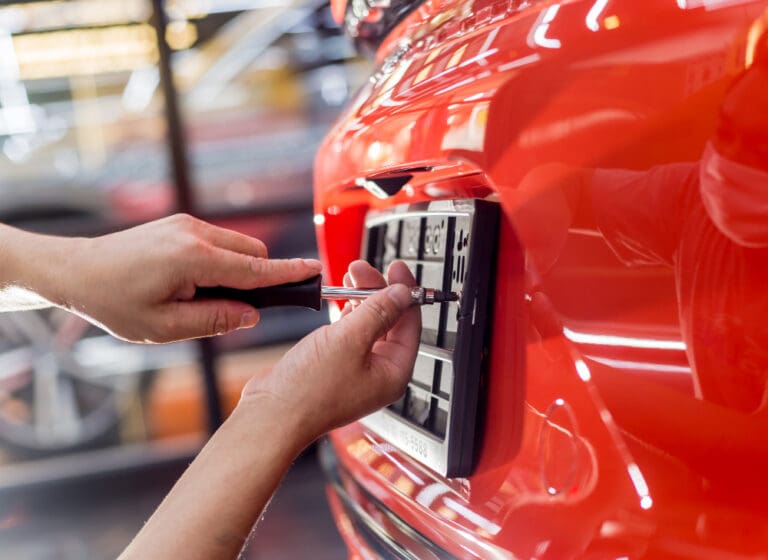 Most vehicles come equipped with license plate frames, whether high-end exotic cars or high-quality used cars. Custom license plate frames are a fantastic opportunity for car owners to impress other drivers with their passion. The ability to display pride and joy is one of the top advantages of license plate frames. You can also have a phrase, tagline, or logo on our license plate frames. All of our Text and Logo are under the clear coat so they will not ship or peel. We also offer Carbon Fiber Tire Valve Caps, Carbon Fiber Money Clips, Carbon Fiber Pens, Carbon Fiber Cigar Holders, Carbon Fiber Credit Card Holders, and many other items.
Custom license plate frames are made to fit your text or your logo to be printed on them and they will be under the clear coat. We offer 2 Hole, and 4 Hole Versions We do not charge for proofs 
What Benefits Does A License Plate Frame Have?
Similarly, Carbon Fiber License Plate Frames are also available in varieties to fulfill the below purposes.
1. They Save The License Plate From Wear And Tear
License plate frames can withstand any weather conditions and resist damage as well. Additionally, they are made to protect your license plate. The frames primarily protect the corners and edges of the plate, which are most susceptible to damage from weather or unintentional accidents.
2. They Are Easily Visible
With bespoke / custom license plate frames, you can be sure they are obvious day or night, ensuring driver safety. You may get any color text or logo on our Carbon Fiber License frames, Key Fobs, Money Clips, Credit Card Holders, Pens, and Cigar Holders.
3. Gives Customized Look To a License Plate
After getting a Carbon Fiber license plate frame on your vehicle, you will stand out from the crowd. Because of its distinctive appearance, your car will look unique No matter how expensive your vehicle is, it can look gorgeous and elegant with a creative Carbon Fiber license plate frame displayed.
4. Boosts Your Vehicle Aesthetic appearance.
Whether Porsche tire valve caps, Mercedes Benz Tire valve Caps, AMG tire valve caps, and many other brands or a personalized Carbon Fiber License frame, you get a finishing touch to your vehicle in many ways. A unique Carbon Fiber license plate frame can help you show other people your passion Any photo you take will instantly show how much you love your vehicle Improve the aesthetics of your Car, Truck, or SUV making it stick out for posting on social media.
5. They Can Be Used As A Promotional Tool
They are an effective marketing tool for your auto dealership. No matter which design you choose, Carbon Fiber License plate Frames, Carbon Fiber Key Fobs, Carbon Fiber Pens, Carbon Fiber Cigar holders, or Carbon Fiber Money Clips and Carbon Fiber Credit Card Holders imprinted with your dealerships name and logo are a helpful tools to promote your business globally. 
Just include your unique artwork or logo and we will do the rest!
Invest in a License Plate for Your Vehicle!
Take the time to find the perfect accessories for your vehicle's needs. Contact Exotic Carbon Fiber for your Carbon Fiber license plate frames, Carbon Fiber tire valve caps,  carbon fiber key fobs, Carbon Fiber Pen, Carbon Fiber Cigar Holder, Carbon Fiber Money Clip, Carbon Fiber Credit Card  Holder, and more. 
We carry hundreds license plate frame designs. 
You can browse our website www.ExoticCarbonFiber.com to see all our  Products